How to Apply for Canada Immigration from Nigeria & Africa Region: Apply Online Visa
Nigeria is continuing to emerge as one of Canada's most important sources of new immigrants, meaning there are many options for how to apply for Canadian permanent residence from Nigeria.As Canada recovers from the economic impact of the coronavirus pandemic, immigration is likely to become more important than ever.
Even during the crisis, Canada continues to bring in new permanent residents who qualified before restrictions were put in place, as well as temporary foreign workers crucial to the country's food supply.
In an immigration levels plan released just before the pandemic took a grip in Canada, the federal government announced its intention to welcome up to more than 1.1 million new permanent residents between now and 2022. While the coronavirus recovery seems likely to affect these numbers, there will clearly remain many opportunities to immigrate to Canada in the near future.
In 2019, 12,600 Nigerians became permanent residents of Canada, putting it fourth on list of countries of citizenship, behind India (85,585), China (30,260) and the Philippines (27,815).
The Nigeria figure represents a more than 200 percent increase since 2015 when just over 4,000 newcomers were welcomed.
---
---
If you are looking to apply for Canada permanent residence from Nigeria, read on to discover which programs are available.
What Are The Options For Immigrating To Canada From Nigeria?
Broadly, the options are:
Federal Economic Class.
Provincial Economic Class.
Quebec Immigration.
Business Immigration, including the Start-Up Visa Program.
Temporary Residence First, Then Transition To Permanent.
Family Class Sponsorship.
1) Federal Economic Class
Canada accepts the largest number of immigrants under the economic class, with annual levels set to move over 200,000 in the category over the next three years.
The largest group within the economic class is the Federal High Skilled category.
There are many immigration streams to be considered when considering applying for Canadian permanent residence from Nigeria.
What Are Canada's Federal Economic Class Programs?
Federal Skilled Worker
Federal Skilled Trades
Canada Experience Class
Canada operates its federal economic class immigration system using Express Entry. Many provinces also follow a similar approach.
Express Entry requires candidates to submit a profile, with the highest scoring profiles issued an Invitation to Apply to one of the above immigration programs.
Candidates then get 60 days to submit a full application.
Under Express Entry, candidates score Comprehensive Ranking System points for core factors such as age, education, work experience and language ability.
---
What Is The Express Entry Process?
Submit profile and enter Express Entry Pool.
Get issued an Invitation to Apply if you meet the minimum points requirement.
Submit an application in 60 days.
Get a decision in target processing time of six months.
If successful, move to Canada.
---
Watch the Video
---
One of the best ways to increase a CRS score is with a job offer, which can be worth 200 or 50 points depending on the skill level. Visit skilledworker.com, the leader in foreign recruitment, to access our job search services.
Several of Canada's provinces also operate Express Entry streams, allowing them to tap skilled workers from the pool.
A provincial nomination is worth 600 points and effectively guarantees an Invitation to Apply.
If you meet the requirements, Express Entry can be a fast way to achieve Canada immigration, with target processing times of six months once the full application is received.
What Are Canada's Provincial Programs?
Ontario Immigration
Quebec Immigration
Alberta Immigration
British Columbia Immigration
Manitoba Immigration
New Brunswick Immigration
Newfoundland Immigration
Nova Scotia Immigration
Saskatchewan Immigration
Prince Edward Island Immigration
If you do not qualify through a federal economic program, the next step is to consider provincial streams for your application for permanent residence from Nigeria.
Each one of Canada's provinces runs their own immigration programs, targeting the specific demands of local labour markets.
If you have specific skills, there could be a provincial stream waiting to accept you.
Quebec has autonomy over its immigration system, with the right to set its own immigration levels and the power to operate its own programs.
Quebec recently launched an Expression of Interest system similar to Express Entry, where candidates submit profiles to the Arrima system and are issued periodic invitations to apply.
Can I Apply For A Business Immigration Program?
Canada also aims to attract entrepreneurs and investors through its business immigration programs, with many applications accepted from Nigeria.
At the federal level, options include:
Self Employed Program
Start-Up Visa Program
Immigrant Investor Venture Capital (IIVC) Pilot Program
Start-Up Visa Program
Canada's Start-Up Visa Program offers Canadian permanent residence to qualified immigrant entrepreneurs.
The program targets innovative entrepreneurs and links them with private sector investors in Canada who will help establish their start-up business.
Candidates can initially come to Canada on a work permit supported by their designated Canada-based investor, before qualifying for permanent residence once their business is up and running.
There are three types of private-sector investor:
Angel investor.
Venture capital fund.
Business incubator.
Initially a three-year pilot, the program was made permanent on March 31, 2018.
---
Watch the Video
---
What Are the Start-Up Visa Candidate Eligibility Requirements?
The basic candidate eligibility requirements for the Start-Up Visa are:
Qualifying business.
Commitment Certificate and Letter of Support from a designated entity.
Sufficient unencumbered, available and transferable settlement funds.
Proficiency in English or French at minimum Canadian Language Benchmark level 5.
What Is A Start-Up Visa Program Designated Entity?
A designated entity is a Canadian private sector angel investor, venture capital fund or business incubator.
The required commitment must meet the following criteria:
A designated angel investor group must invest at least $75,000 into the qualifying business. Candidates can also qualify with two or more investments from angel investor groups totalling $75,000.
A designated venture capital fund must confirm that it is investing at least $200,000 into the qualifying business. Candidates can also qualify with two or more commitments from designated venture capital funds totalling $200,000.
A designated business incubator must accept the applicant into its business incubator program.
What Are the Start-Up Visa Program Business Ownership Requirements?
For the candidate to qualify for permanent residence:
The intended business must be incorporated and carrying on business in Canada.
The candidate must own at least 10 percent of the voting rights in the corporation.
No other person can hold 50 percent or more of the voting rights in the corporation.
NOTE: Up to five candidates may have their permanent residence application supported by the same business investment. However, certain candidates may be designated essential to the business. If any essential candidate withdraws their application, or are refused, all other candidates under the same business investment will see their applications terminated.
Quebec Immigrant Investor Program
One of Canada's most popular business programs is the Quebec Immigrant Investor Program.
It is the only passive investment program that leads to Canadian permanent residence.
Intake for the Quebec Investor is currently paused until June 30, 2020. It is not known if the coronavirus pandemic will affect the reopening of the program.
---
Quebec Investor: Primary Requirements
Legally acquired personal net worth of $2 million;
Two years of suitable management or business experience within the five years preceding the application;
Investment of $1.2 million into a passive government guaranteed investment for a period of five years bearing no interest;
Intend to settle in the province of Quebec.
---
Watch The Video
---
Quebec also runs Immigrant Entrepreneur and Self-Employed programs.
Several of Canada's other provinces also operate business programs as a route to permanent residence from Nigeria.
Increasingly, the provinces require time spent in Canada setting up a business as a temporary resident before candidates are nominated for permanent residence.
Owner-Operator Business Immigration
Candidates looking to immigrate to Canada from the UAE should also consider the Buy a Business and Move to Canada Program.
Federal owner-operator rules allow a candidate to buy a business and move to Canada on a temporary work permit, before transitioning to permanent residence further down the line.
Under this policy, a work permit is issued following the sale and transfer of the majority share ownership of an existing profitable Canadian business to the immigration candidate.
Can I Transition From Temporary To Permanent Residence?
Increasingly, immigrants are coming to Canada as temporary residents and transitioning to permanent residents.
Canada continues to accept temporary workers in priority occupations during the coronavirus pandemic.
This is a popular route for candidates who do not immediately qualify for permanent residence when applying from Nigeria.
Time spent in Canada as a temporary resident counts towards a permanent residence application.
Work permits are issued through the Temporary Foreign Worker Program, International Mobility Program and International Experience Canada Program.
Caregivers also have their own streams for work permits (under the TFWP) and transition to permanent residence.
What Is Family Class Immigration?
Candidates in Nigeria with family members who are already permanent residents or citizens can apply through Family Class Sponsorship immigration.
Which Family Members Can Be Sponsored For Canada Immigration From Nigeria?
Spouse
Common-Law partner
Conjugal partner
Dependent children
Parents
Grandparents
Brothers or sisters, nephews or nieces, granddaughters or grandsons who are orphaned, under 18 years of age and not married or in a common-law relationship
Another relative of any age or relationship but only under specific conditions
Accompanying relatives of the above (for example, spouse, partner and dependent children).
What Are The Requirements To Be A Sponsor?
You must be 18 years of age or older.
You and the sponsored relative must sign a sponsorship agreement that commits you to provide financial support for your relative, if necessary. This agreement also says the person becoming a permanent resident will make every effort to support her or himself.
You must provide financial support for a spouse, common-law or conjugal partner for three years from the date they become a permanent resident.
You must provide financial support for a dependent child for 10 years, or until the child turns 25, whichever comes first.
CANADIAN VISA REQUIREMENTS
1. ACCOMPLISHED IMM5257 FORM
This is the Application for Visitor Visa Form
You can download it from here: Form IMM5257.
Fill it out digitally. You don't need to print it out or sign it.
View the form using Adobe Acrobat. When you view the forms online, sometimes the file won't load at all, displaying a "Please wait" message instead, especially if you're using Chrome or Firefox. (Yep, it's best accessed using IE.) Download it anyway. When you open it using a PDF reader such as Adobe Acrobat Reader DC or Adobe Acrobat 8 Professional, you'll see that the form is actually there. Fill it out using Acrobat.
Leave the signature field blank. I struggled so hard finding a way to be able to type on the Signature field, but it turned out that I didn't have to. You will be providing your electronic signature later in the process (when you're submitting the form).
2. ACCOMPLISHED FAMILY INFORMATION FORM
Sometimes, it's the IMM5645E Form. Sometimes, it's the IMM5707 Form. Both are Family Information Forms. To be safe, submit the form that is indicated in your Document Checklist. In my case, I was asked for the IMM5645E form.
You can download it from here: IMM5654E.
Fill it out electronically. Same with the Application Form, if the page doesn't load, use Acrobat Reader. And don't sign it. You will be asked for a digital signature later in the application process.
3. VALID PASSPORT
Scanned copy of the bio page and all pages with visas and stamps.
Your passport must have at least 6 months validity and signature. If you're using a new 10-year e-passport, you can find the signature field on Page 3, the page next to the Information Page. If you're using a 5-year e-passport, the bio page already has a digital signature so NO NEED to sign it again.
4. DIGITAL PHOTO
Passport-size (35mm x 45mm).
White background.
Specs here: Canada Visa Photo
The website indicated "scanned" when I applied, but I uploaded a soft copy of the photo instead.
5. PROOF OF PURPOSE OF TRAVEL
Submit proof that you are coming to Canada for a TEMPORARY visit. You can submit any or all of the following:
flight ticket departing Canada (return or onward ticket)
your travel itinerary
hotel booking
You don't need to submit actual tickets. You can submit flight or hotel reservations, which you can cancel in case your application is denied (so you don't have to waste money). A few airlines allow flight blocking (although I haven't tried any of them) and some hotel booking websites have free-cancellation policy. Travel agencies can also issue these reservation documents.
You can find one here: FLIGHT & HOTEL RESERVATIONS
IF YOU'RE INVITED BY A CITIZEN IN CANADA, you will ALSO need to provide the following:
invitation letter
a copy of their citizen card
payslips or tax docs
6. TRAVEL HISTORY
Scanned. This can be any or all of the following:
previous passports used within the last 10 years
expired and valid visas
entrance and exit stamps
If you're living outside your country of citizenship, submit a copy of your immigration status document.
7. PROOF OF MEANS OF FINANCIAL SUPPORT
Scanned copies of any or all of the following:
Bank statement for the past 4 months
a Certificate of Employment
Income Tax Returns (ITR)
proof of assets (land titles, etc.).
If you're a student: you must also submit proof of payment of tuition and accommodation fees.
If someone else is funding your trip: also submit a letter from the person or institution providing you with money.
8. BUSINESS REGISTRATION DOCUMENTS
Only if you're self-employed or if you're traveling for business.
You can submit SEC, DTI, or BIR registration documents, as long as it indicates the registered name of the business, the business address, and type of ownership.
9. LETTER OF EXPLANATION
This is optional. It's not really a requirement, but if you wish to provide more info about the trip, you can submit a letter of explanation.
I wrote a letter explaining why I want to visit Canada and the details of my trip. It's short and straight to the point.
10. VISA FEE AND BIOMETRICS FEE
Visa Fee: CAD 100. MasterCard, Visa, and American Express cards are accepted.
Biometrics Fee: CAD 85. MasterCard, Visa, and American Express cards are accepted.
IMPORTANT REMINDERS
Here are a few notes that will make your application easier:
ANY or ALL. You'll notice that in the list of requirements above, I keep on using the phrase "any or all of these documents." It's because in theory, you can submit just one item per document type. However, if you want better chances of approval, we strongly recommend submitting everything that you can provide.
Only the following file types are accepted: PDF (Portable Document), JPG, TIFF, or PNG (Image), DOC or DOCX (Microsoft Word Document).
Only one file will be allowed per requirement.– For example, for proof of means of financial support, if you want to submit a Certificate of Employment, ITR copy, AND proof of assets, make sure they're in one file. If all your files are in PDF format, you can use apps like Adobe Acrobat to merge all the pages. If they're image files, you can also insert all of them in a Word document to generate a single file.
– Another example, travel history. If you are want to submit multiple pages of your passport to show the different visas and stamps, you must scan and save all pages as only one file.
The size of each file must NOT exceed 4MB. That's the maximum size. If your file exceeds, you need to reduce the size. Know that PDF files tend to be smaller in size than Word (doc) files. If your PDF files are still over, recreate your files with Adobe Distiller and set to "lowest file size." Set it to only 96 DPI (dots per inch).
Make sure your documents are complete. You won't be able to submit your application if any of the required files is missing.
---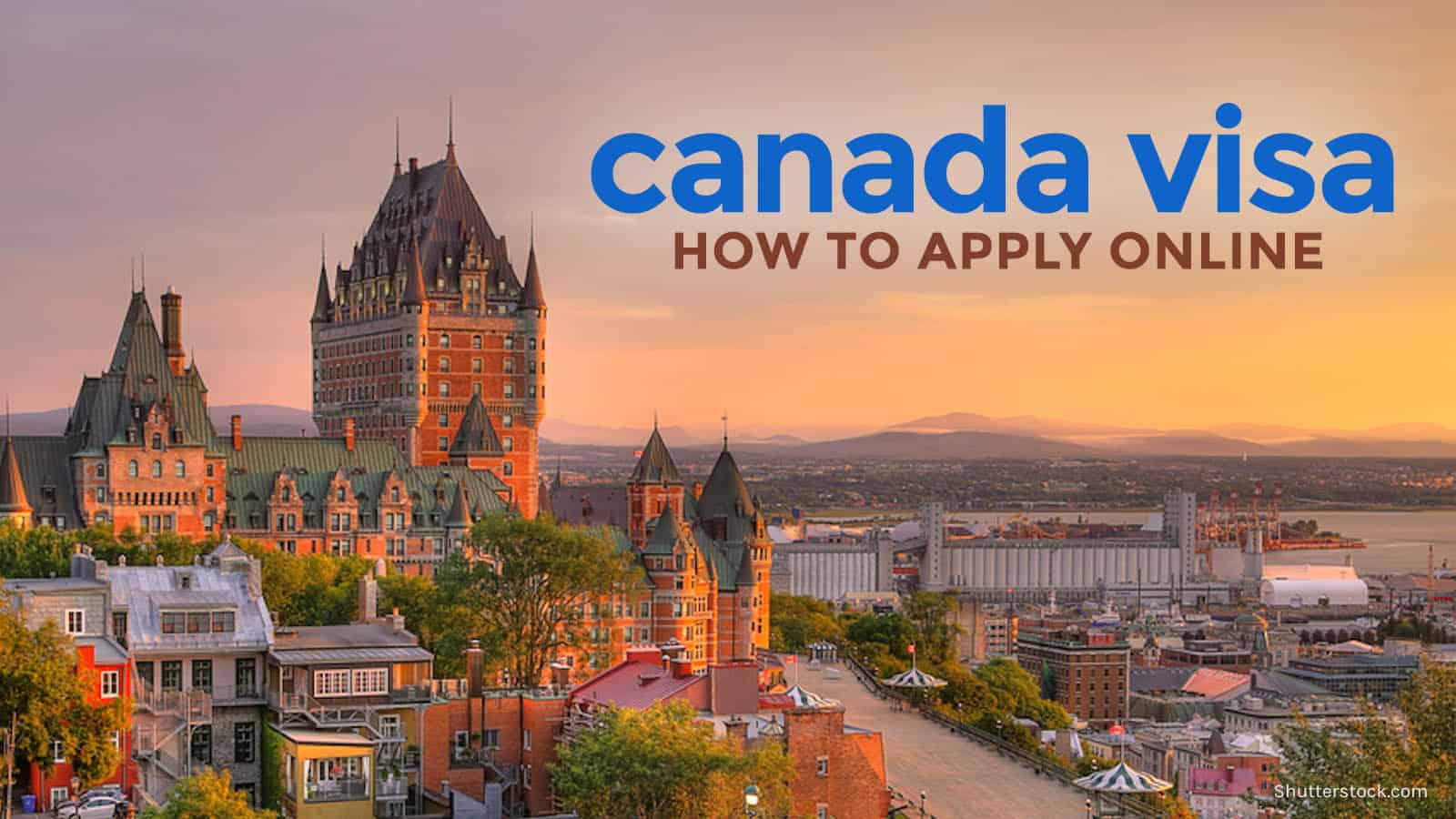 ---
HOW TO APPLY FOR A CANADA VISA ONLINE
1. CREATE A GCKEY (CIC ACCOUNT).
What is a GCKey? It's an account that would let you securely access the online services of the Government of Canada, including the CIC, which stands for Citoyenneté et Immigration Canada (Immigration, Refugees, and Citizenship Canada), the government agency that will be handling your application. You will be asked to create a username, password, and security questions.
Here's how to create a GCKey/CIC account:
Visit the registration page of the CIC here: CIC Register. Click on GCKey at the bottom of the screen.
Click SIGN UP (on the right side of the screen) on the next page.
Accept the terms and conditions on the next page.
Create an account. Provide your full name, email address, desired username, password, and security questions and answers. Take note of these details because you will be entering these bits of info many times during the process.
On the next page, click "VISITOR VISA, STUDY AND/OR WORK PERMIT". If you are logged out, you will have to log in again. Then, you will be directed to your Accounts Dashboard where you'll see a list of applications. Since your account is new, the list is empty. Towards the bottom, you'll find a "START YOUR APPLICATION" section. Click on "APPLY TO COME TO CANADA."
On the next page, you will be asked if you have a Personal Reference Code. Under "I do not have a Personal Reference Code," click "VISITOR VISA, STUDY AND/OR WORK PERMIT".

Find out if you're eligible. You will be asked a series of questions about your trip and your background: how long is your trip, what province will you be visiting, have you been arrested for or convicted of any crime, have you overstayed a visa before? Just answer truthfully. You will also be asked whether or not you have a family member who is a citizen or permanent resident of Canada. If everything is alright, the next page will tell you that you are eligible for a VISITOR VISA. Click CONTINUE. On the next page, click CONTINUE again.
---
2. UPLOAD YOUR DOCUMENTS.
You will be asked to review all the information you entered in the previous step. Check if things are as they should be, and then click CONTINUE.
You will be presented with a Personal Document Checklist, which displays all the required documents that you need to upload. It looks like this: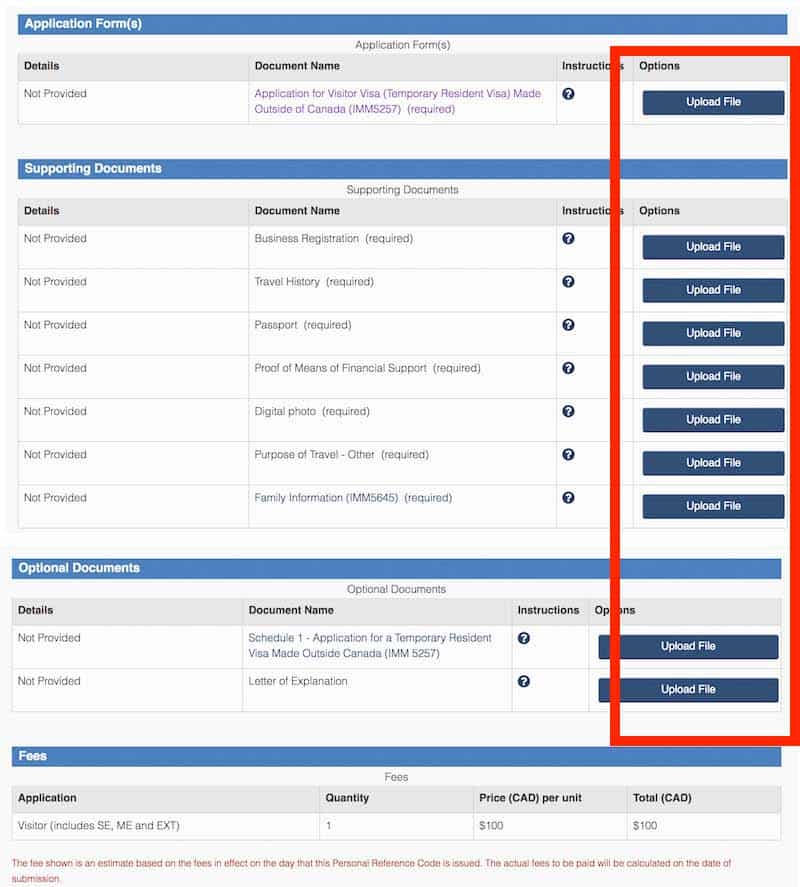 To upload, simply click on the corresponding UPLOAD button on the right side.
You don't need to upload the documents all at once. If you feel like you can't complete it today, you can simply log out and log in another day. You have 30 days to complete the requirements.
Again, reminders:
Only the following file types are accepted: PDF, JPG, TIFF, PNG, DOC, DOCX
Only one file will be allowed per requirement. If you are want to submit multiple pages of your passport to show the different visas and stamps, you must scan and save all pages as only one file.
The size of each file must NOT exceed 4MB.
Make sure your documents are complete. You won't be able to see the SUBMIT or CONTINUE button if any of the required files is missing.
Once you have completed the requirements and submitted your application, you will be prompted for an electronic signature. You don't need to scan your signature or anything. You simply have to enter your full name. That's your electronic signature. Just type your name.
---
3. PAY THE VISA AND BIOMETRICS FEE.
Visa, Mastercard, and American Express are all accepted. Again, here are the fees:
Visa Fee. CAD 100. MasterCard, Visa, and American Express cards are accepted.
Biometrics Fee. CAD 85. MasterCard, Visa, and American Express cards are accepted.
Just enter your card details and click Process Transaction. It may take a while to process so be patient. Don't click that button again because you might be double-charged.

Within a few hours, you will receive an email containing your Application Number. It starts with letter V and then a series of numbers.
You will also receive instructions to submit your biometrics.
---
4. SUBMIT YOUR BIOMETRICS.
Effective December 31, 2018, visa applicants from Asia, Asia Pacific and the Americas are now required to submit biometrics. This is a new requirement. When I applied, this was not yet implemented.
But thanks to the members of our Facebook Support Group who recently applied, we have the details and we're sharing them with you.
Note that if you have submitted your biometrics before and they are still valid, you don't need to submit biometrics. But if you received a Biometric Instruction Letter (BIL), then you have to visit the Visa Application Centre usually within the next 30 days so they could collect your biometric data. The letter has instructions already, but here it is.
Set an appointment for biometrics submission. More information on this page.
Check your email. Once you have secured a schedule, you will receive an Appointment Letter indicating the date and time of your appointment, and the address of the Canada Visa Application Center. It will also tell you if you need to bring anything.
On your appointment date, show up at the Canada Visa Application Center 15 minutes before your schedule. If you're asked to bring some documents, don't forget to have them with you.
---
5. WAIT FOR UPDATES.
From hereon, you will be getting a message each time there is an update to your application. The first few messages will be updates that your application has been received.
To read your messages, follow these steps:
Visit the CIC Login page and click on GCKey again here.
Enter your username and password. You will also be asked to answer a security question.
On the next page is a summary of your application. Scroll down toward the bottom. Under "View My Submitted Application", click the Check Status and Messages button.
On the next page, info about the application is displayed. Scroll down to the bottom again. Under Correspondence, you will see the messages. Click on the Expand button and it will reveal a "View this message" link. When you click it, a PDF document will be automatically downloaded.
---
6. SUBMIT YOUR PASSPORT.
If your application is denied, you will receive an email telling you just that.
If your application is approved, you will receive a message that they have come to a decision regarding your application and they are requesting that you submit your passport.
You have two options: by mail of in person.
If in person
Print out the passport request letter you received from IRCC/CIC. Make sure that the barcodes and application number are clear. You will bring this and your passport to the VFS Office/ Canada Visa Application Centre (CVAC).
Go to Canada Visa Application Centre (address below). At the CVAC Office, the guard will give you a number and 2 forms: a personal info form and a VAC Consent Form. While waiting for your number to be called, fill out the forms.
When your number is called submit all the requirements:
– Passport
– Request Letter from IRCC/CIC
– Personal info form
– VAC Consent Form. You can also download here
Pay the CVAC handling fee. P543.15 according to the website. But in reality, I was charged P905 (cash), perhaps including the courier charges. Check out the list of fees and service charges here
If by mail
It's a bit more complicated. here's the complete step-by-step guide: Submission by Mail
According to the staff I talked to, the passport will be ready in 2 weeks, but she also said that it usually takes much shorter than that.
That's it! Once it has your visa, you may receive your passport by mail or collect it at the CVAC office, depending on what you paid for.
Enjoy Canada!
Every year, over 130,000 international students choose to study at Canadian universities. In addition to a high-quality education system, Canada also provides numerous possibilities and a vibrant culture. Research, scientific publications, and international collaborations are three […]
Do you want to come to Canada, or extend your stay? COVID-19: Safety measures Find out if you're affected by the coronavirus (COVID-19)Need help? Find out if you are eligible to apply Do you want […]