Immigration, Refugees and Citizenship Canada (IRCC) has announced that it will allocate $100 million to help new immigrants settle and integrate in Canada during the post-COVID-19 period.
This funding will be provided over the next three years and will focus on improving the ways newcomers access settlement services.
The funding will come from the Ministry's Service Delivery Funding (SDI) program. The SDI is a funding process program that focuses on needs assessment, information, language training and skills development, employment-related services and community ties.
Canada government plans to bring more than 1.2 million immigrants next 3 years CANADA AIMS TO BRING 401,000 NEW SKILLED WORKERS, FAMILY MEMBERS And REFUGEES IN 2021, 411,000 IN 2022 AND 421,000 IN 2023 Canada […]
"Settlement services play a fundamental role in Canada's immigration system. From work to housing to language training, they set newcomers up for success. During this challenging year and a half, I think it's safe to say everyone has needed support in some form or another. One can only begin to imagine the additional hurdles this pandemic has presented newcomers trying to start their lives in Canada. These new SDI projects will help us enhance and improve settlement services so every newcomer can reach their full potential here," said Marco Mendicino, Minister of Immigration, Refugees and Citizenship.
IRCC has selected 78 projects under the 2020 funding process.
Canada government announces 3 new initiatives to welcome and support more refugees; Click More
"These projects will explore how to better integrate newcomers in their new communities and support the settlement sector as it recovers from the pandemic," IRCC said in a statement.
"Throughout the pandemic, many settlement services have moved online. SDI funding will help IRCC determine the kinds of services newcomers need, while taking into account the increased reliance on online service delivery."
Examples of projects that are part of this funding process were also provided. They are as follows:
The University of Windsor's Artificial Intelligence: A Rapid Response Leveraging Newcomers' Pathway to Settlement will test whether artificial intelligence can be used to develop an effective settlement strategy for newcomers.
The Accessible Community Counselling and Employment Services' Connecting Canada: Employer Engagement Driving Settlement in Smaller Communities will test whether connecting newcomers with employers in smaller urban and rural communities before they arrive will lead to more newcomers choosing to settle there.
S.U.C.C.E.S.S.'s An Anti-Oppression Framework to Combat Systemic Racism in Immigrant Services will explore service approaches designed with an anti-oppression framework.
Funding will begin in the fall of 2021 and run until March 31, 2024.
Canada's federal government plans to welcome more than one million new permanent residents over the next three years and recognizes the need to invest in settlement infrastructure.
2021-2022 Canada Student loans, grants, scholarships and bursaries Where to find money that can help you pay for a college, university or apprenticeship program after high school. Ontario Student Assistance Program (OSAP) OSAP is Ontario's flagship […]
Canada's Immigration Levels Plan 2021-2023 is the most ambitious effort to welcome newcomers in its history.
Canada will aim to welcome over 400,000 new immigrants each year to support its economic and social prosperity. Canada is welcoming skilled workers to strengthen its economy, family class immigrants, and refugees. This comprehensive CanadaVisa page outlines everything that you need to know about the plan, why Canada welcomes high levels of immigration, and the impact of COVID-19.
Summary of Canada's Immigration Levels Plan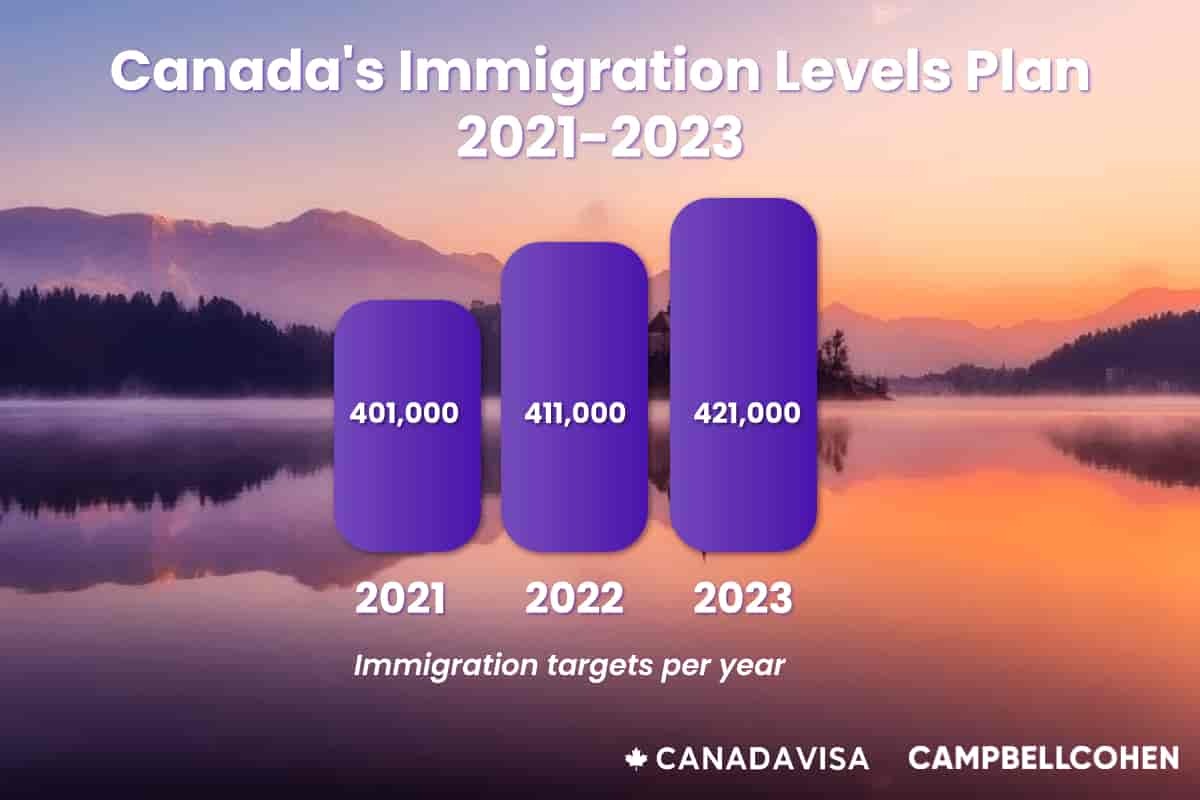 Over the next 3 years, Canada will seek to welcome over 1.2 million new immigrants. 
Each year, the federal department of Immigration, Refugees and Citizenship Canada (IRCC) releases a new Immigration Levels Plan which it uses to guide its operations.
In 2021, IRCC will target the arrival of 401,000 immigrants. In 2022, this will rise to 411,000 new permanent residents (PRs). In 2023, Canada will aim to welcome an additional 421,000 immigrants. The following table summarizes Canada's immigration targets between 2021-2023 by immigration class:
| Immigration Class | 2021 | 2022 | 2023 |
| --- | --- | --- | --- |
| Economic | 232,500 | 241,500 | 249,500 |
| Family | 103,500 | 103,500 | 104,500 |
| Refugee | 59,500 | 60,500 | 61,000 |
| Humanitarian | 5,500 | 5,500 | 6,000 |
| Total | 401,000 | 411,000 | 421,000 |
---
2021-2023 Immigration Levels Plan
Immigrant Category
2021
2022
2023
Target
Low Range
High Range
Target
Low Range
High Range
Target
Low Range
High Range
Overall Planned Permanent Resident Admissions
401,000
300,000
410,000
411,000
320,000
420,000
421,000
330,000
430,000
Economic
Federal High Skilled
108,500
81,000
110,250
110,500
96,250
112,900
113,750
100,000
114,500
Federal Business
1,000
400
1,250
1,000
250
1,250
1,000
500
1,250
Economic Pilots: Caregivers
8,500
4,900
9,250
10,000
4,500
10,500
10,250
4,500
11,000
Atlantic Immigration Pilot Program
6,000
3,300
6,250
6,250
3,000
6,750
6,500
3,500
6,750
Provincial Nominee Program
80,800
64,000
81,500
81,500
63,600
82,500
83,000
65,000
84,000
Quebec Skilled Workers and Business
See the Quebec immigration plan
To be determined
To be determined
Total Economic
232,500
180,500
237,000
241,500
199,000
247,000
249,500
207,000
253,500
Family
Spouses, Partners and Children
80,000
61,000
81,000
80,000
60,000
81,000
81,000
60,000
82,000
Parents and Grandparents
23,500
15,000
24,000
23,500
14,000
24,000
23,500
14,000
24,000
Total Family
103,500
76,000
105,000
103,500
74,000
105,000
104,500
74,000
106,000
Refugees and Protected Persons
Protected Persons in Canada and Dependents Abroad
23,500
17,000
25,000
24,500
19,000
25,000
25,000
19,500
25,500
Resettled Refugees – Government-Assisted
12,500
7,500
13,000
12,500
7,500
13,000
12,500
8,400
13,000
Resettled Refugees – Privately Sponsored
22,500
14,900
23,000
22,500
15,400
23,000
22,500
15,500
23,000
Resettled Refugees – Blended Visa Office-Referred
1,000
100
1,000
1,000
100
1,000
1,000
100
1,000
Total Refugees and Protected Persons
59,500
39,500
62,000
60,500
42,000
62,000
61,000
43,500
62,500
Humanitarian and Other
Total Humanitarian & Compassionate and Other
5,500
4,000
6,000
5,500
5,000
6,000
6,000
5,500
8,000
4.4% of total admissions outside Quebec
12,144
16,544
Why Canada Needs Immigrants
Canada welcomes high levels of immigration to keep its economy strong.
Canada has one of the world's oldest populations and also one of the world's lowest birth rates. This creates economic and fiscal pressures. Canada has a low rate of natural population growth which results in low rates of labour force and economic growth. Low economic growth makes it difficult for Canada to raise the taxes it needs to support social spending on services such as education, health care, and other important areas that provide high living standards in the country.
As a result, Canada has been increasing its immigration levels since the late 1980s to increase its rate of population, labour force, and economic growth. Canada now depends on immigration for the majority of its population and labour force growth and a larger share of its economic growth.
Consider that Canada will have 9 million baby boomers reach the retirement age of 65 by the year 2030. This means that Canada will have fewer workers at a time when its social spending on health care will rise. To alleviate this challenge, Canada has been proactive by gradually raising its immigration targets for over 30 years now.
As shown in the chart below, Canada has regularly welcomed over 200,000 immigrants per year since 1988. In recent years, it has decided to increase its levels to over 300,000 per year. Canada's immigration rate now stands at around 0.9 per cent. In other words, Canada welcomes three times more immigrants on a per capita basis than then the United States of America.
Based on its demographic realities and its immigration trends, it appears likely that Canada will continue to gradually increase its immigration levels over the foreseeable future. Immigration will remain critical to supporting a healthy economy and fiscal situation in the country.
Moreover, a strong argument can be made that immigration's importance has increased due to the coronavirus pandemic. COVID-19 has weakened the Canadian economy in the short run and increased government spending on social services. In addition, Canada's birth rate fell to its lowest level ever of 1.47 children per woman in 2019. Given the low birth rate prior to the pandemic, and the chance the pandemic will reduce the birth rate even further due to economic uncertainty, Canada will become even more dependent on immigration for its population growth in the coming years. If Canada's birth rate remains low, then immigration will comprise an even larger share of labour force growth in the decades to come. Finally, Canada will need to strengthen its tax base through immigration to support government spending following COVID-19.
---
How COVID-19 is Impacting Canada Immigration
Canada has continued to operate its immigration system throughout the coronavirus pandemic. Since the start of the pandemic, the Canadian government has communicated its desire to minimize disruptions to the immigration system so it can continue to welcome skilled workers, family class immigrants, refugees, temporary foreign workers, international students, and visitors. When Canada initially imposed COVID-19 travel restrictions, it announced that some new permanent residents would be allowed to enter the country.
COVID-19 has reduced the flow of new permanent resident arrivals into Canada. At the same time, the ongoing processing of immigration applications means that those who are not able to enter Canada in 2020 should expect to be able to move to the country once the pandemic situation has improved.
In the meantime, Canada is still issuing new immigration invitations to skilled workers under Express Entry, the Provincial Nominee Program (PNP), and through Quebec's immigration programs. Spousal sponsorship applications are also being processed. The following CanadaVisa page contains the latest updates on how COVID-19 is affecting Canadian immigration.
Overview of Canada's Immigration Programs
Economic immigration, which is a major driver of Canada's economic growth, accounts for more than half of planned admissions through the multi-year levels plan.
Nearly half of projected economic admissions will be through the federal Express Entry system programs:
Canada's Provincial Nominee Program (PNP) also plays an important role in terms of economic immigration. This program allows participating Canadian provinces and territories to nominate eligible immigration candidates who match local workforce needs for permanent residence.
The following are immigration programs included in Canada's Multi-Year Immigration Levels Plan:
Economic Programs
Family Class Programs
Refugees and Protected Persons, Humanitarian and other
Protected Persons in Canada and Dependents Abroad
Blended Visa Office Referred
Contact Campbell Cohen for Assistance
Campbell Cohen is a leading Canadian immigration law firm with over 45 years of experience. Campbell Cohen is comprised of over 60 Canadian immigration lawyers, paralegals, and other professionals. We are dedicated to helping people achieve their Canadian immigration goals. We assist in areas including skilled worker and business immigration, family sponsorship, work permits, study permits, citizenship, and inadmissibility. CanadaVisa.com was founded in 1994 as the online presence of Campbell Cohen. CanadaVisa has since blossomed into the one of the world's most trusted resources on Canadian immigration. Please reach out for assistance. We're happy to help:
Settlement services offered by the Government of Canada are geared towards people who arrive in the country as refugees, as families or as economic immigrants. Their purpose is to help people overcome specific barriers to the newcomer experience, such as lack of official language skills and knowledge of Canadian social, cultural, civic and economic life.
Newcomers who can integrate into Canadian society and settle quickly can make a greater contribution to Canada's economic growth.
Complete FREE Immigration form to see if you are eligible to immigrate to Canada!
Need an English test for your Canadian visa? Relax your mind with IELTS We're here to make your language-testing process simple and stress free. Many countries require proof of your language abilities before granting a […]
Do you want to come to Canada, or extend your stay? COVID-19: Safety measures Find out if you're affected by the coronavirus (COVID-19)Need help? Find out if you are eligible to apply Do you want […]